CTFO CBD Products NOW SELL and SHIP to this 8 New Countries
CTFO CBD Business Products now SELL and SHIP to 8 New Countries. CTFO launched on May 1 2019. Now is the time to reach out to people in the below 8 countries and let them know they can buy our products as well as take advantage of the CTFO CBD Oil Business Opportunity by enrolling as Associates Now. This New countries Virgin Markets are: Denmark Germany Spain France Italy Norway Finland Portugal And re-launching back into Sweden soon as well!
Buy the Best. CTFO CBD Oil Products, 10xPURE CBD CBDA Oil, Full Spectrum or Isolated 100% Pure CBD oil. A line of Skin Care products including Anti Aging and Wrinkle Removing creams. Pain Healing Creams and Sprays. We also have Pets CBD products for Dogs and Cats.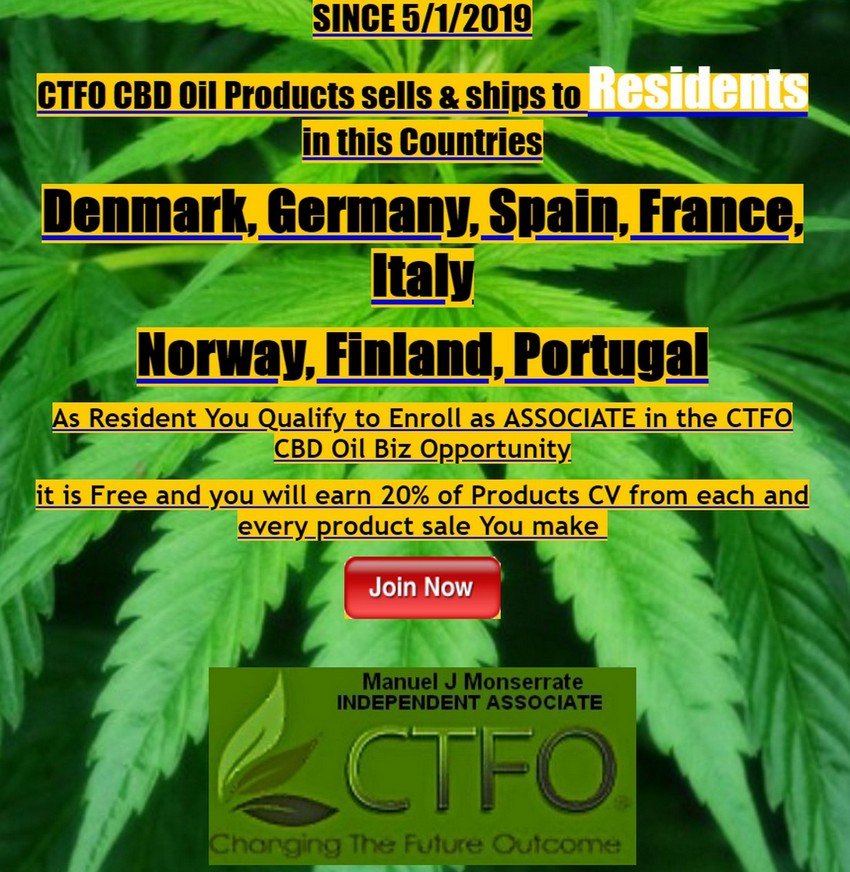 CTFO CBD Oil Business Opportunity
CTFO Business Opportunity started beginning 2019 its Online Biz Program and as May/1/2019 have New Virgin Markets with the addition of this 8 countries. Grow your Sponsored Associates team and Preferred Customers by Geo Targeted Marketing Campaigns to this open markets as well as marketing to all the other CTFO approved countries.
JOIN NOW TO JOIN as FREE AFFILIATE YOU MUST LIVE IN ONE of the COUNTRIES LISTED: USA, Canada, England, Ireland, Northern Ireland, Scotland, Sweden, Wales, Denmark, Germany, Spain, France, Italy, Norway, Finland, Portugal, Puerto Rico USVI American Samoa, Guam, Northern Mariana Islands. JOIN NOW
To Blog HOMEPAGE